VacMaster VP400 Dual Chamber Vacuum Sealer - A True Work Horse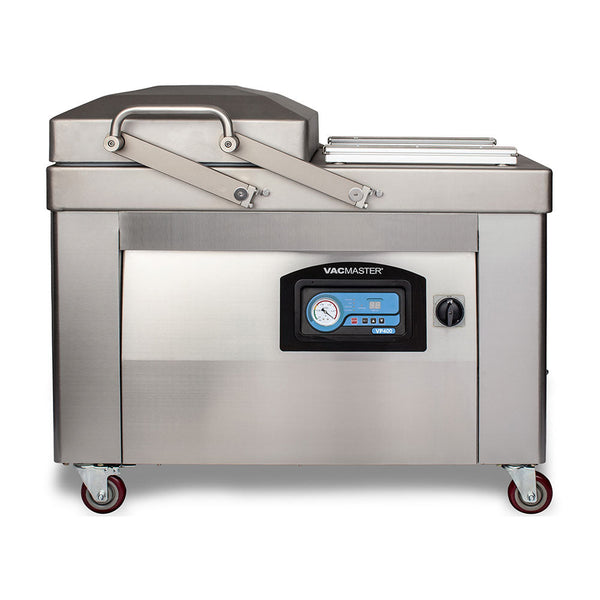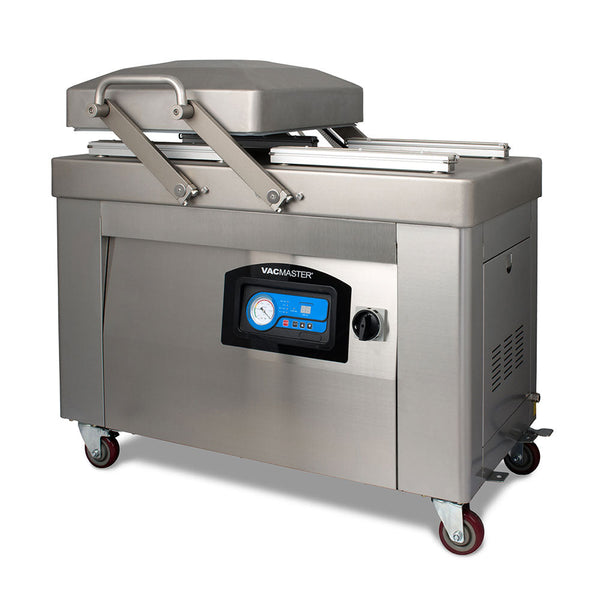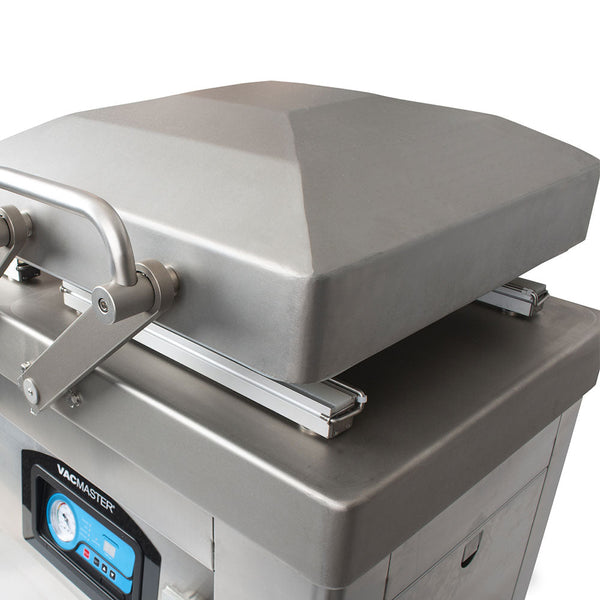 The only 110 Volt Double Chamber Vacuum Sealer on the Market!
The New VacMaster® VP400 Double Chamber Vacuum Sealer was designed for those looking to boost their packaging operations without sacrificing floor space. To make this double chamber vacuum sealer even more accessible, VacMaster designed the VP400 to operate on 110 Volts. Two 16-inch seal bars located in each chamber provides the option of sealing four large chamber pouches at once or doubling up of smaller bags for maximum efficiency. Built with a commercial-grade, 1.5 hp oil pump to deliver a quality vacuum in 20-30 seconds. A table height, flat deck design provides the ultimate utility, offering increased production and speedy operation. 4-inch smooth-rolling casters allow the VacMaster VP400 Double Chamber Vacuum Sealer to be moved easily for cleaning or maintenance. The VP400 base is constructed of stainless steel with fully skirted access panels to promote easy sanitation.
The easy to use control panel lets you set the vacuum, seal and cool time. Bag locks on the seal bar gasket reduce bag movement during busy production cycles. The VacMaster VP400 Double Chamber Vacuum Sealer is ideal for small to medium volume processors needing to package larger size products such as large cheeses, ham, pizzas, and primal cuts. The smaller footprint also makes the VP400 ideal for hunting and fishing lodges that need to package large quantities of game quickly.
Commercial-Grade 1.5 HP Rotary Oil Pump
Four (4) 16" Double Wire Seal Bars
Adjustable Cycle Time: 20-99 Seconds
Stainless steel body
Maximum Chamber Bag Size: 16" x 20"
Chamber Size: 20" x 19.75" x 6"
Weight: 375 Pounds
Operates on Single Phase, 110V, 30A
SKU:

VP400
Machine Type:

Double Chamber
Chamber Size:

20" x 19.75" x 6"
Seal Bar Length:

16"
Distance Between Bars:

13"
Vacuum Pump:

1.5HP Rotary Oil Pump
Cycle Time:

20-30 Seconds
Electrical Specs:

Single Phase, 110 V, 30 Amps
Gas Flush:

N/A
Machine Dimensions:

42" x 27" x 37"
Machine Weight:

375 lbs
Maximum Bag/Pouch Size:

16" x 20"
Compatible Bags/Pouches:

Chamber Vacuum Sealer Pouches