VacMaster VP800 Double Chamber Sealer with Gas Flush. Our Largest Model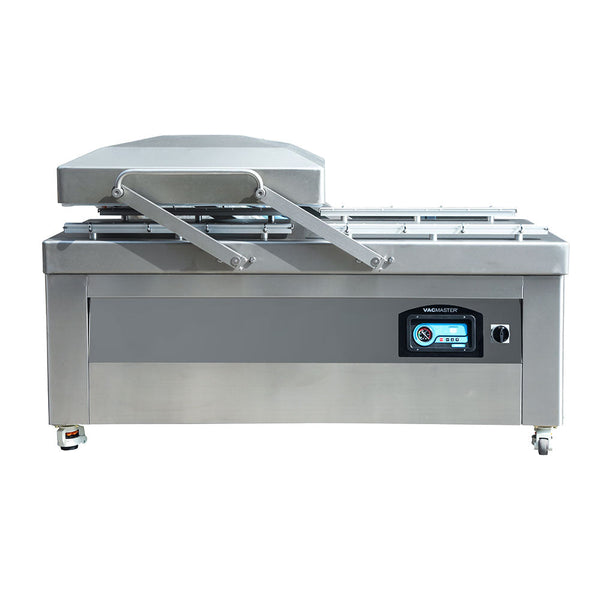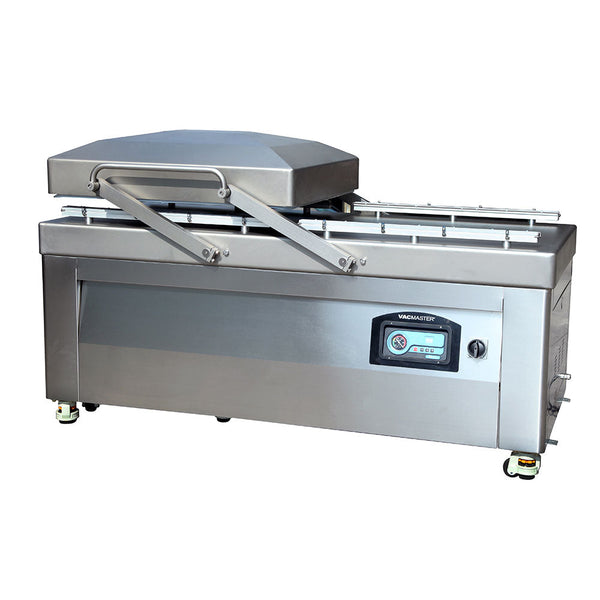 The New VacMaster® VP800 Commercial Double Chamber Vacuum Sealer with its large chamber size and four 32.25-inch seal bars delivers maximum productivity for your packaging operations. The double chamber, dual-deck design allows operators to quickly load their product on one side while the other chamber is working. The spring-loaded pivoting chamber lid delivers a smooth back and forth transition, reducing operator fatigue. Two 32.25-inch seal bars located in each vacuum chamber accommodates plenty of options for packaging a variety of chamber pouches to maximize your vacuum packaging needs. An optional gas flush feature allows for the addition of an anaerobic gas mixture, which gives you the ability to package delicate items such as pasta or chips. A powerful commercial-grade, 3.25 hp oil pump delivers a quick and quality vacuum in 20-30 seconds. The table height, flat designed deck reduces the time loading and offloading of products. Smooth-rolling 4-inch casters allow the VacMaster VP800 Double Chamber Vacuum Sealer to be moved easily for cleaning or maintenance. The VP800 is designed to withstand years of heavy operation thanks to its reinforced construction and stainless steel base. The fully skirted access panels provide quick and easy access to machine mechanicals and promote easy sanitation.

The VacMaster VP800's easy to use control panel gives you the ability to set the vacuum, seal, and cool time. Bag locks on the seal bar gasket reduce bag movement during busy production cycles. The VacMaster VP800 Double Chamber Vacuum Sealer is perfect for medium to large volume processors needing to package large size products or meals such as large cheeses, ham, pizzas, and primal cuts. The larger chamber size also makes the VP800 ideal for hotels, commissaries, and larger catering providers that need to package large quantities of food for events.
Commercial-Grade 3.25 HP Rotary Oil Pump

Four 32.25" Seal Bar With Double Wire

Adjustable Cycle Time: 20-99 Seconds

Spring loaded pivoting chamber lid

Optional Gas Flush

Stainless steel body

Maximum Chamber Bag Size: 20" x 28"

Chamber Size: 35.8" x 31.5" x 8.85"

Weight: 1100 Pounds

Operates on 3-Phase, 220V, 30A
Must be hard wire 3 phase, do not use a convertor on single phase – this could void the warranty
SKU:

VP800
Machine Type:

Double Chamber
Chamber Size:

35.8" x 31.5" x 8.85"
Seal Bar Length:

32.25"
Distance Between Bars:

27.5"
Vacuum Pump:

3.25 HP Rotary Oil Pump
Cycle Time:

20-30 Seconds
Electrical Specs:

3-Phase, 220V, 30A
Gas Flush:

Yes
Machine Dimensions:

75"x 41" x 40"
Machine Weight:

1100 lbs
Compatible Bags/Pouches:

Chamber Vacuum Sealer Pouches
Shipping:

Truck Only